London to Paris
Everything is almost ready, I just have to roll into the garage to fit the fully loaded Malle bags, my new Lowepro giant camera bag, the heavy chain and my Manfrotto tripod, and hope that I can ride the Eldorado loaded like a donkey. I've not tried this setup on the road yet, but I'm sure something can be worked out.
The idea is to ride all the way to Naples via towns and villages, but for the first stretch, leaving at 8 am, I decide to take the motorway to the Channel tunnel so I can be there on time for my 11.50am train. After all I want to take it easy and not worry about the time now. Not long onto the fast tarmac, and just like a geizer the Guzzi starts spitting oil from the right cylinder! The cold is pretty intense and with a mix of worry and excitment I think WTF am I doing in November!? My upper body is fine under the Weise jacket and the Ashley Watson tech underlayer and neck tube, but my hands and feet are falling off. I haven't yet wired up the Keiss heated gloves, insoles and vest I've been given to try on this trip, but I will soon. I've never used any heated kit, and I'm curious to see what kind of diffence they will make.
Oil pissing and all, I make it to the earlier tunnel and spend carriage time workign out how to connect the daddie's heating, and slipping a pair of military Merino long Johns under my Malles pants.
Calais to Paris is 300Km, and I decide to opt for the 4.5 hours of backroads instead of 3 of shitty motorways. I've still got memories of the last time I had to be recovered on it. But now I want to enjoy this bloody trip, and anyway I need to monitor the oil leak and can't push the Guzzi too much - I've got another 2000 miles to do off motorways! The village and country roads at times become tiny lanes in between fields (how did Google know I'd like this unlikely route?), the winter sun is already going down and I'm starting to feel the drawing power of this journey.
PARIS
Rested from a night at my friends Matt and Imogen's house, I go out fighting the Paris traffic and the whizzing scooters to shoot with designer Chrisophe Fenwick. But I also need to have a proper look at the oil leak, and half way through the shoot Christophe takes me to Tierry at his trusty Paradise Garage for a check up. It turns out I may have had too much oil, as even after the spitting leak I'm still over the line. I buy oil for the trip and we go for a lazy Brasserie lunch. After all, these old bikes are meant to have a little leak, right?!
Christophe Fenwick - Paris
PARIS to LYON
I set 'discovery' and 'no motorways' on the ViaMichelin app and set off on the suggested 8 hours' journey. Morning riders nod at me and my fully loaded bike at every other Paris trafficlight, but I'm soon out of town towards the Parc Naturel de Gâtinais. The heating is working amazingly (perhaps even too much now that I'm on dry land), I'm blessed by a beautiful sunny day, and the roads are nice and smooth.
I've got a long route today, so I decide I deserve a proper lunch, and stop for steak and wine at a lovely countryside restaurant. Back on the road the sun starts its descend while I'm not even half way to my destination, but the app has really been taking the discovery element to the next level, insisting for me to leave the main road at every random village so that the puzzled locals can give me a good stare. I had no idea the app worked this way, but the discovery element is definitely on, just probably not ideal on a 2000 miles trip. Crossing semi modern towns, national parks and old deserted towns, I come across more boulangeries than I've ever seen in my entire life, and I've got to stop for sweet treats here and there. I'm now in the Parc Naturel du Morvan, on the N6 by Molphey, when I come across the amazing pump station of Chez Johnny (fb: N6 chez johnny), and old school dude who's all about motorcycles. He pulls out photographs and magazines and even gifts me an 80s mag with an article about someone crossing Europe on a Guzzi (out of nowhere!). The man and his pump are very cool, the perfect spot to stop on a long bike journey.
On towards Lyon it's now dark, and I wonder if I should jump on the motorway. But my brake light fuse has just gone again (I have plenty fuses), and I don't trust the fast French riders, plus I enjoy riding through the dimly lit medieval villages as if it were a Dario Argento's movie. But it's Friday night and out the blue I pass a lively wine shop and decide to stop to check what's up and pick a good bottle to drink with my friend in Lyon. To my amazement the place is buzzing with merry locals (mostly in their 60s) having a ball at tasting wines and eating cheeses and crackers. I happily join in for a few glasses, but I have to leave for the last 150km to Lyon, now armed with a potent bottle of red and a smile on my face.
LYON to LA CHAUX DES FONDES
There are many straight routes I could take today but I opt again for the Via Michelin plan of discovery through the villages of the Haut-Jura regional park, to enter Switzerland from the north. After all, these are the unknown roads I'm after, and I'm not gonna be duped into riding the easy Google way.
Blessed with clear skyes and sun I start climbing altitude, but I know too well I'm heading towards the rainy colder mountains. Although the first autumn colours are beginning to disappear for the death of winter, the vegetation of this untouched landscape is still hypnotic. Solo riding these empty roads into what knows next is pure bliss. Getting closer to the Swiss border, I reach snowy roads and peaks, and then it starts raining, but I knew that all along, and I pull out the Nigel Caburn waterproof jacket I was lent by Nick. Luckily the Swiss are good at maintaining the main roads, so I can keep riding. But the Michelin happ has a different plan, and after a steep mountain climb suddenly I'm on a single dirt lane splitting a bushy wet valley – all I'm missing here are the big cows with the bells. In the hope to come out again onto a main road I keep going, only to find myself at a dirt road dead end filled with logs and wet leaves, and it's a pain in the arse turning the big Eldo around while swearing at the Michelin app.
It's starting to get dark, my rear brake is now weak, and I need to be extra cautious, especially as for the last 80km in complete darkness it's now raining like no tomorrow. Two hours of climbing wet twisty roads and I'm into Switzerland at my friend's place. I dry up and we go for a posh Italian dinner and wine. After all I deserve it. Today it was gorgeous but tough, and tomorrow my proper Swiss wet journey will commence.
CHAUX DES FONDES to DOTTIKON + MURI + BESENBUREN
Loading the bike in the rain is a first on this trip, but it's good preparation for what will come next. Thankfully I've got Malle panniers that with their airtight inner bags are completely waterproof, so all my gear is safe. The Lowepro camera bag also sports a kind of pull out condom that I also sprayed with a waterproof can. To my surprise the Alpinestars Oscar boots are really waterproof, at least for the first 6 hours of rain (plus they're warm with those Keiss heated insoles!) and the Dainese waterproof bottoms are extra peace of mind over the Malle waxed canvas trousers. I take off nice and early into the Naturpark Thal, but there is no time to faff with landscapes and snacks this morning. It's raining solidly, and I've got a full on day: First I am going to try and find The British Bike Doktor in Dottikon for a surprise shoot in the morning, then in the afternoon I have to ride to nearby Muri where 80 years old Indian specialist is waiting for me for another shoot, and then I'm gonna ride to Besenburen to crash at my friend's palce, hopefully alive.
BESENBUREN to BALTERSWIL
It's always what you thought was the easiest route that becomes the most difficult.
This morning I'm loading the Eldo under shelter, but it's not stopped raining for 3 days in Switzerland, and it won't stop today either. I knew from the beginning this would happen. It was my Swiss friend who said numerous times how fucked up was my idea to ride through wet and miserable Switzerland in December. I remember telling her this was all part of the adventure, but now I really wish I was riding in the sunny hills. Yet if rain were my only problem I'd be laughing. Last night my Hedon helmet pinlock came off and I ingenuosly thought it'd be ok without, but it's not. Even keeping the visor slightly open it's a challenge in the cold wind and pouring rain. Yet I carry on. I think I can make these easy 60 km (supposedly 1.5 hours) to today's shoot with McSands in Balterswil, but the Eldorado doesn't agree. Within the first 10km the rear wheel seems to lock up, and after a few stops of WD40 interventions I reaise it's not a water problem but something else with the rear brake. The fog in the helmet is impossible to handle and just as I am about to pass Zurich I decide I have to stop and look for a pinlock at a motorcycle store (especially as it's my last chance in a big city before leaving for rural Switzerland and then the Alps). Now, all over Germany and in main Swiss cities there are these huge supermarkets of motorcycles called Louis Motorrad. They really have lots of gear, aything you need, but for the life of me they haven't got this special pinlock for Hedon helmets. In the pouring rain I walk into the multi floor shopping centre next door to find an anti fog spray while calling Ben at Hedon for some desperate help. I'm scheptical he can help, but the man is a true legend and in no time he's organising for a brand new visor to be picked up at one of their retailers in central Zurich!
Even without the Swiss motorway pass called Vignette (as I never planned motorway routes), I'm now riding parts on the highway, as it's too wet and late to be messing about with lenghy roads. Riding back to the middle of town with no vision and messed up brake isn't easy, especially as Swiss drivers are pretty weird. Some are truly nice and friendly; some are real dickheads. I genuinely can't work them out…It's really in the most advanced cities that people are the most savages.
I arrive at McSands pretty worn out, but the guys are super chilled and very helpful. We first go for lunch, we shoot and then they devise a fix for my rear brake. It turns out both brake shoes springs had broken and were just scrambling in there, so we adapted the most similar harley springs, even if they sound like an harp at every wheel revolution.
ZURICH to RAPPERSWIL
After a chilled and finally sunny day with a friend in Zurich, around 5 pm I take off along the Zürichsee lake to make it to the Werki launch in Rapperswil, a new bar and restaurant by the Young Guns. With my new rear brake springs and a revised headlight (tricky connection + I blew the low beam the night before), at sunset I ride leasurley along the lake with the vague idea to make some pictures when all of a sudden I run out of petrol, just as I am passing a petrol station. With all the previous day mess, I totally forgot about miles, but I'm excused the forgiveness as I also have a 2L petrol bottle attached to the Malle bag. I take off for the last 10Km just as it gets dark when all of a sudden my headlight dies completely. I hope it's the fuse or the connection again, but it's the bulb, and I haven't got a relacement. Instead I have a US sealed beam lamp, and the whole thing must be replaced, so I carry on to the party just with my blinker on. I'm pretty fucked for now, but my next stop will be Moto Guzzi in Madello, and I should be alright.
RAPPERSWIL to BELLANO
I leave Nik's couch nice and early to beat the Swiss rain that's meant to return around lunchtime. Back outside the Werki venue my bike is still all loaded as nothing had happened – (Incredible Switzerland!) I throw a few more layers on and take off for the Alps. There are no passes open this time of year, certainly not for bikes, so I chose to go for the San Bernardino tunnel, and I've got to do it before lunchtime if I want to stay dry. The wind is now insane and I'm really glad I've got my Eldorado to ride through the valleys at the feet of the mountains. The heavy beast is amazingly comfortable, even if loaded like a donkey, and the seat is like a couch.
I start climbing a steep white mountain when a police car checks me out, but they can't spot my hedlight is not working. Riding the twisty road that skirts alongside the Swiss motorway 13, I reach a point where there is too much snow and ice on the road, and I have to jump on the highway that quickly becomes the tunnel. This is the real test of my luck. 7 KM without headlight…I just hope there is no Police at the end of this, cause I haven't got the motorway pass either!
Convinced I'm now in Italy, I stop at a bay right outside the tunnel for a marvel of the snowy mountains over tea and energy bar, but as soon as I take off again it first starts snowing then raining like no tomorrow, and my moment of dry glory is all over. Suddenly I realise I'm still in Switzerland, and in the hope to ride nice roads I step off the motorway again. I'm now in the middle of a fucking storm coming down the Alps, but it's epic to say the least and I just keep going in disbelief. Once on flat land I find shelter at a so called Grotto (a safe house with a fire place and local food), where the Neapolitan owners dry me up by the fire and feed me an incredible homemade pasta with sausage sauce and local Vino.
With a full belly and the gloves just a bit less wet, I can only laugh at my dirty luck and carry on riding the next 80 km (two and a half hours) in torrential rain all the way from Lostallo to Menaggio, and then onto the suggestive Lake Como ferry crossing to reach my Airbnb on top of the hills of Bellano.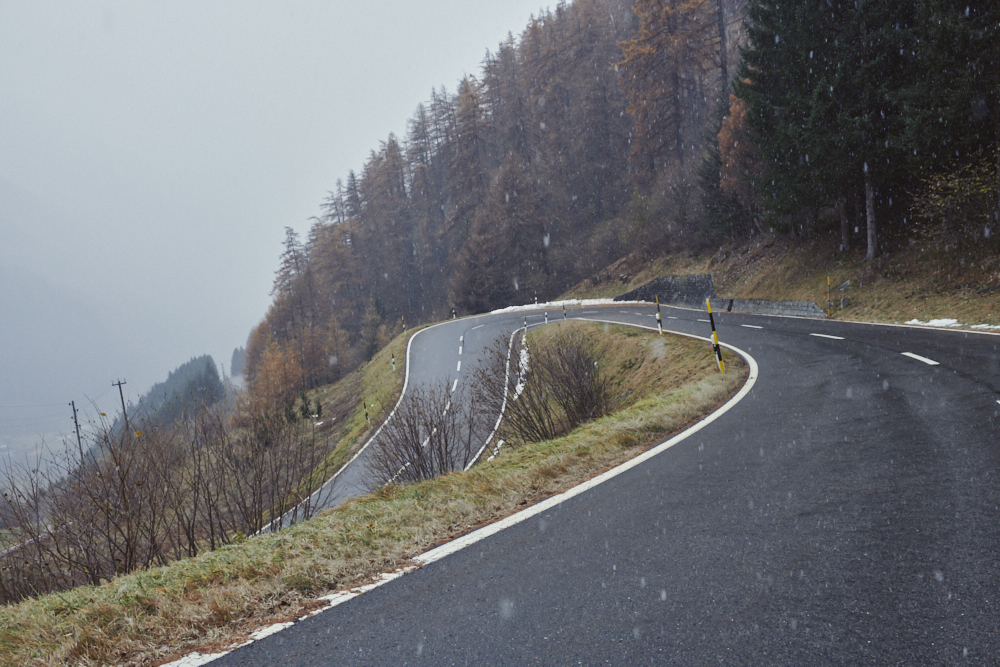 BELLANO to MANDELLO
I said it before and I'll say it again, it's always what you think the easiest journeys that are shittiest!
This morning the route is 16Km, it's sunny, and I'm in a good mood as they're waiting for me at the Guzzi museum for a private tour. The Eldorado is riding a bit funny but after all night under the pourign rain I think it may just need to dry, but as soon as I've descended the hill and I'm along the lake my baby sputters and dies. I can't believe this! I try with pushing, and after unloading the whole luggage even try the bad ass jump start battery I've got with me, but no luck. Plugs are dirty (it's been 1200 miles after all) and a clean seems to help but it's still not working and I have to push the fully loaded mammooth to the nearest bike garage to buy some expensive plugs and bahm, I'm en route again.
After a late start at the Guzzi museum, I finish at around 5 pm and it's getting dark again. They have kindly checked my bike over, but nothing has actually been done, and I suddenly remember my headlight is still broken. The problem is I have this US model where the bulb is all one thing with the headlight glass, so you have to find the whole thing, and Guzzi doesn't have it there. It's getting really dark, my phone is at 5% battery, all 3 of my iphone charging cables have stopped working, and I'm about to leave the Moto Guzzi factory with no definite plan. Thankfully the Neapolitan guard Antonio helps me out with a few calls around, but it doesn't seem any local suppliers have the headlight, still I go to a shop called Valassi, where they deal in vintage Guzzi parts. They haven't got a lamp or anything I can adapt for lighting, but most of the other bits I need, and across the road for a rare hit of luck I find a phone shop to buy yet anther iphone cable. Pleading Valassi's owner for some help, she calls local retired mechanic Armando Dellamano and goes "he says he hasn't got the part", but if there is anyone able to help it's him, go there".
I knock on Armando's door and he lets me in. He's working on a Guzzi Mulo, a 3 wheeled vehicle for the fields (the local farmer apparently has had it since the 80s and still uses it every day) amongst other old Guzzi's he's got parked in there. Half blind Armando is allegedly closed, but as any old dogs he can never stop doing what he's loved for years and knows like the back of his hand. He doesn't even need to see. He goes in the back room and comes out with a few headlights but none fit. Just as he's telling me there is nothing he can do he pulls out this last glass that seems right but he can't fit. Encouraged I take over the fitting and Bahm! It's the right one, it just needed someone who can see the fitting latches.
As the sun is setting behind the mountains surrounding Lake Como, I head off for Bergamo to meet my friend Luz. Over wine and stories, we'll be fixing and welding bits back on the Guzzi that night.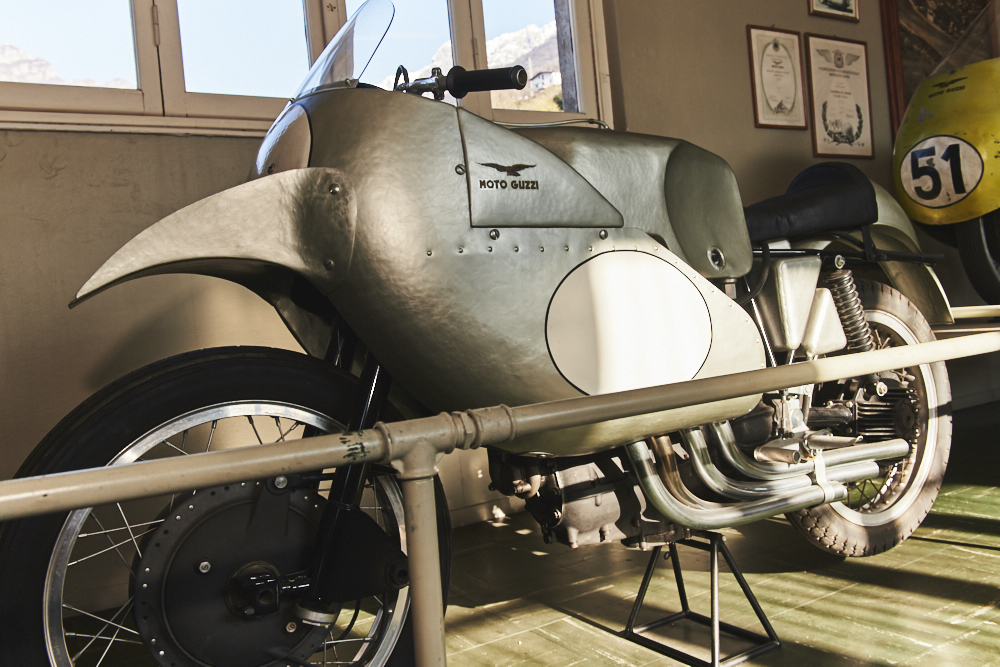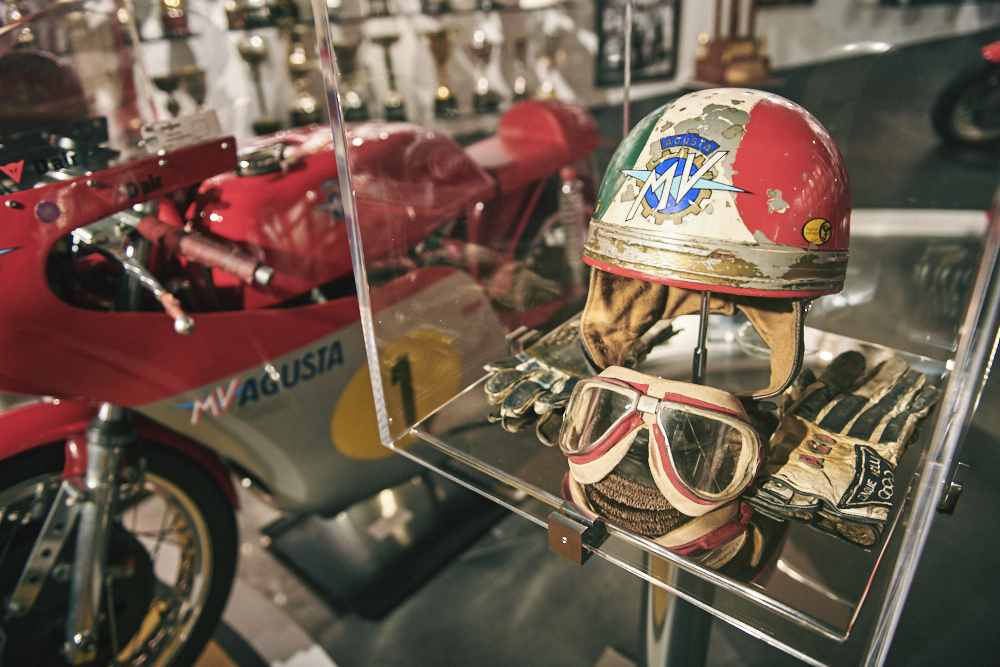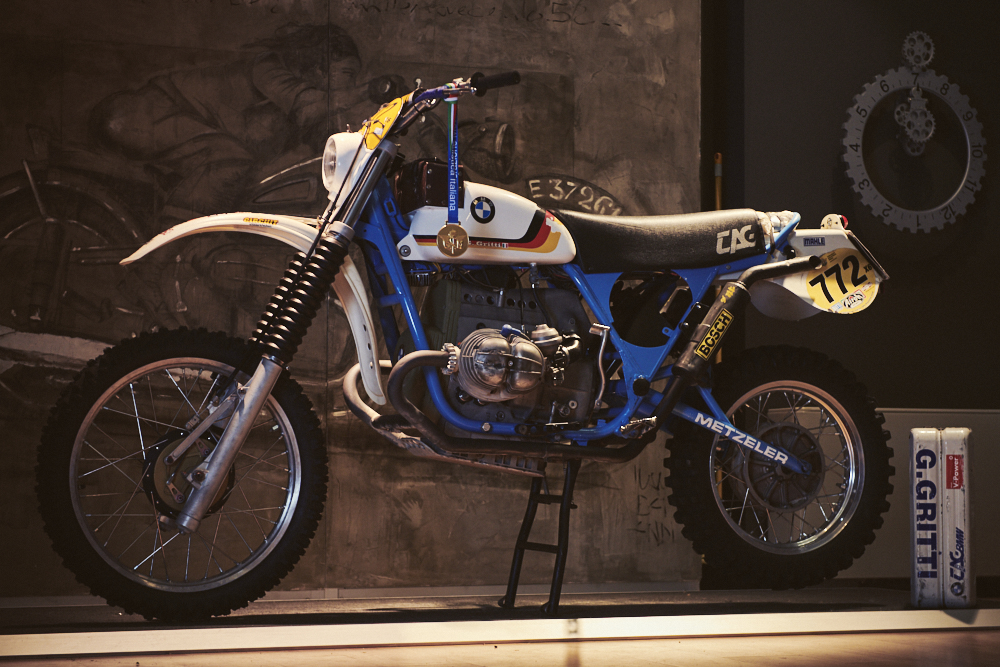 MILANO to BOLOGNA
After my shoot with Magni I decide to ride to Bologna to visit an old friend. Bologna's the right stop in the north of Italy, just half way through to my (next day) ride to Pescara. But the area between Milano and Bologna is really nothing great for motorcycles. It's called Pianura Padana (Flat land Padana), and it's really just an immense flat and foggy stretch of farming land, plus it's bloody damp and freezing, so for the third time on this trip I decide to hit the motorway to get to my friend on time for dinner and a good dose of beers.
BOLOGNA to PESCARA
The morning stretch from Bologna to Rimini on the eastern coast of Italy is cold again. It's incredible how on a flat piece of land it can be just as cold as on the Alps, but humidity is insane here.
Finally on the coast, it's a whole different climate. I start riding along the sea and it's a bit surreal seeing the long stretches of summer beaches now completely deserted. On the recent advice of my dear friend Letizia from Milan, I ride up the hills lieing on the coast near Ancona, and then down to Sirolo's shore. The secluded place is completely abandoned for winter, and it really looks like a Thai Island. It's pure paradise.
The last stretch along the seaside villages is now easy and smooth, but then to reach the Airbnb I've picked into the hills outside Perscara, I'm again victim of the bonkers Michelin app. All of a sudden I realise I'm riding in the dark on dirt roads into olive orchards, in a completely different hill of where I'm meant to be. Swearing like no tomorrow I check if I'm an idiot but ViaMichelin seems to have gone all out. Switching to Google maps, I ride another 40 minutes from hill to hill through the tiniest dark roads and finally onto my real destination for the night.
PESCARA to CASTEL DEL MONTE
Determined to make the best out of this last stretch of the journey, after a pleasant shoot and lunch with Rossopuro, I decide for a detour in the thick of the Small Alps, and set off to spend the night in Castel Del Monte in the Gran Sasso natural park. The sunset ride up the hills and through the thick olive plantations is amazing, but it's getting dark and I have to find a place to stay for the night. My journey and shoot schedule is now easier, so I didn't book anything, I just like the idea of finding a little place on the spot, but I quickly discover many places are shut in this off season. Riding in pitch dark from one tiny village to another with barely any road lights it's getting sketchy, but at the last minute a compassionate woman welcomes me in her shut off hostel called Storie D'abruzzo. She lights up the fire and with a clever vent system I had never seen before, she warms up the whole B&B. But I'm hungry, and having settled I ride again into the small mountains to reach Osteria del Lupo (The Wolf Tavern) in the nearby town. It turns out the whole area has quite a few packs of Wolves living here for many years.
CASTEL DEL MONTE to NAPOLI
This is really the last run of the journey, the last day riding, so it's got to count.
I get up nice and early to take a scenic route through a great valley up 1500 meters between the small Alps. It's pretty dry up here, but the colours are amazing with purple, green and brown vegetation all over. Some peaks are covered in white, but it's much less than on the big Alps. Yet the winds are strong and cold, and the only road up here takes you through incredible thick clouds. With the exception of the occasional car, I'm pretty much the only one on the road here.
Coming off the mountains, it's immediately clear I'm in Southern Italy. With the famous Neapolitan sun at full blaze the temperature is completely different, and I can relax reflecting about the trip. I met and photographed with more amazing people than I even planned to, reconnected with many friends, fought my luck and the elements, and saw many amazing mountains, valleys, villages and cities. Even the old Guzzi kept up, in contrast to what many told me in the beginning. I now finally breeze though my last 150Km with a sense of stillness and joy. This is why I ride. I'm glad I did this trip, with this bike, through this season. It wouldn't have been the same with a modern bike during summer time, I don't care what others say.
Special thanks to all who made this possible, especially: Alpinestars, Ashley Watson, Keiss, Hedon, Helen Chapman, Malle London, Nick Clements, Weise.
This article was published in Built Magazine, Cafe Racer France, Men's File, Moto Heroes.
Gear used: